The street-legal, Villager 2 NEV requires no fuel, operates silently, and has all the features typical of a full-sized automobile.
20 – 30 mile (32 – 48 km) range
Impact-resistant, UV-coated body panels
3-point seat belts and 4-wheel brakes
Automotive glass with windshield with wiper
Headlights, brake light, turn signal/reverse lights, and horn
Interior and driver mirrors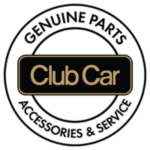 There are are many great options to enhance and personalize the Club Car NEV, which includes body kit color, custom paint, pin-stripes, custom seats, floor mats and carpet, stereo systems, street lights, dash locking, wheels and tires, and more.  Gilchrist Golf Cars is the new authorized dealer for the street-legal Club Car NEV (low speed vehicle / neighborhood electric vehicle), and provides sales and service throughout the greater Sacramento Metropolitan Area.