Conveniently located in Rocklin, CA, we provide golf cart sales throughout the greater Sacramento area. Our inventory includes new, used or refurbished Yamaha and Club Car golf cars and carts, electric or gas, as well as utility cars for varied needs.  Whether you are looking to purchase a cart for the first time, trade in your golf cart in order to upgrade, Gilchrist Golf Cars is an award winning golf carts company with the experience and inventory to ensure that you get the golf car that you've dreamed of.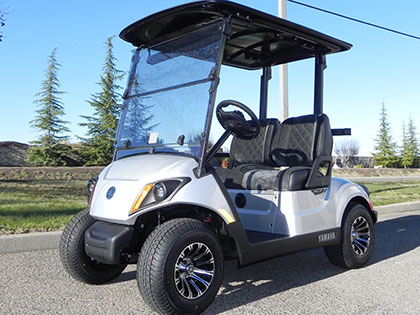 New Yamaha Golf, PTV, and Utility Vehicles
Gilchrist Golf Cars is the authorized Yamaha dealer for the greater Sacramento area. If you are looking for a new golf car, PTV, Concierge transportation or UMAX utility car, our Yamaha line is the easy choice when luxury, performance and value matter. As a full-line authorized dealership for Yamaha, we offer the latest technology and innovation for new golf, transportation, and utility cars. Financing as low as 0% OAC is available year-round on select models.
Used & Reconditioned Cars
High quality, reliable, and affordable – those are our goals when preparing and offering any used golf cart for sale. We offer used and reconditioned golf cars to fit most applications and budgets. Our reconditioned cars are an excellent alternative to purchasing a brand new golf car, and as an authorized Yamaha dealership, we offer the best used car financing in the industry: as low as 1.99% for 36 months (OAC) on Club Car, E-Z-GO, or Yamaha models current to 7 years old.
New Club Car NEV / LSV Street-Legal
Gilchrist Golf Cars is the greater Sacramento authorized dealer for the street-legal Club Car NEV (low speed vehicle / neighborhood electric vehicle). The zero-emissions Villager NEV comes in two models, a 2-passenger and a 4-passenger model with back to back seating. For specific street-legal usage on public streets with posted speed limits 35 mph or lower, our Club Car NEV / LSV model is the answer. Financing as low as 0% OAC is available year-round on select models.
Delivery Available!
Once you find the perfect golf car, how do you get it home or to work? We are here to help and provide delivery throughout most of northern California with our own trucks & trailers. Plus, our delivery team will be able to answer any questions you may have. At Gilchrist Golf Cars, we want your positive experience to begin at our dealership and continue all the way to your front door or work site and into the future.
Contact Information
1140 Tara Ct., Rocklin 95765
FAQs
Do I need a street-legal car?
2020-02-22T11:03:16-08:00
Unless you are in a golf cart or private/gated community, street-legal carts are required to drive on public streets with posted speed limits of 35 mph or less.