Conveniently located in Rocklin, CA, we provide golf cart sales throughout the greater Sacramento area. Our inventory includes new, used or refurbished Yamaha and Club Car golf cars and carts, electric or gas, as well as utility cars for varied needs.  Whether you are looking to purchase a cart for the first time, trade in your golf cart in order to upgrade, Gilchrist Golf Cars is an award winning golf carts company with the experience and inventory to ensure that you get the golf car that you've dreamed of.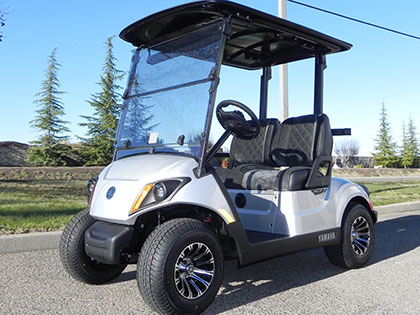 New Yamaha Golf, PTV, and Utility Vehicles
Gilchrist Golf Cars is the authorized Yamaha dealer for the greater Sacramento area. If you are looking for a new golf car, PTV, Concierge transportation or UMAX utility car, our Yamaha line is the easy choice when luxury, performance and value matter. As a full-line authorized dealership for Yamaha, we offer the latest technology and innovation for new golf, transportation, and utility cars. Financing as low as 0% OAC is available year-round on select models.
Used & Reconditioned Cars
High quality, reliable, and affordable – those are our goals when preparing and offering any used golf cart for sale. We offer used and reconditioned golf cars to fit most applications and budgets. Our reconditioned cars are an excellent alternative to purchasing a brand new golf car, and as an authorized Yamaha dealership, we offer the best used car financing in the industry: as low as 1.99% for 36 months (OAC) on Club Car, E-Z-GO, or Yamaha models current to 7 years old.
New Club Car NEV / LSV Street-Legal
Gilchrist Golf Cars is the greater Sacramento authorized dealer for the street-legal Club Car NEV (low speed vehicle / neighborhood electric vehicle). The zero-emissions Villager NEV comes in two models, a 2-passenger and a 4-passenger model with back to back seating. For specific street-legal usage on public streets with posted speed limits 35 mph or lower, our Club Car NEV / LSV model is the answer. Financing as low as 0% OAC is available year-round on select models.
Delivery Available!
Once you find the perfect golf car, how do you get it home or to work? We are here to help and provide delivery throughout most of northern California with our own trucks & trailers. Plus, our delivery team will be able to answer any questions you may have. At Gilchrist Golf Cars, we want your positive experience to begin at our dealership and continue all the way to your front door or work site and into the future.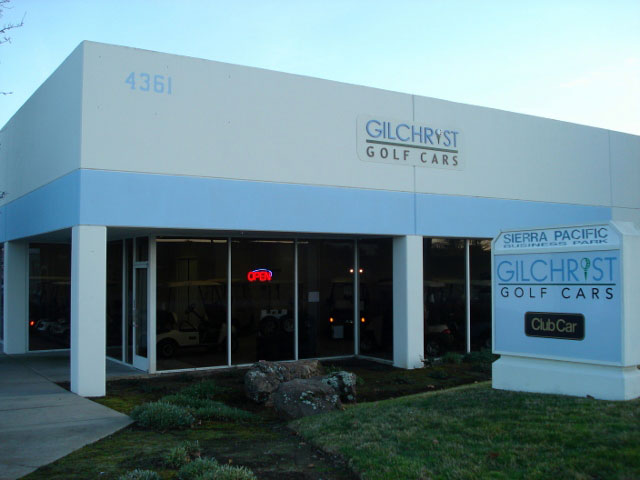 Contact Information
4361 Pacific Street, Rocklin CA 95677
Testimonials
The golf cart worked great. We really appreciate that the reservation process is very easy and you are very accommodating with our schedule. The driver was very helpful and courteous. We will be in contact again for next year's event. :) It was a pleasure working with you on this very important annual event.
As usual you and your group have come through. It is nice to have a vendor you can count on. I will get back with you on next year dates.
The carts worked just GREAT. No problems at all and they saved a bunch of people's lives who would have no doubt walked themselves to death without them. Next time we put on a big match like this one you will be hearing from us.
Everything went exceptionally well! Your driver was an absolute gentleman and very easy to talk to. As usual you provided excellent service and we thank you very much. We look forward to working with you again in August.
Thank you so much for the carts this weekend. They were a huge help on such a large campus. Everything rocked!
Things could not have run any smoother; the cars were outstanding and I would like to use the same blueprint for ordering next year. This year marks the best Air Show yet with the attendance numbers and the operations from law enforcement/fire at their finest. Thank you sir and as always it is a pleasure to work with you.
The event went well thanks. And, once again you and your company has came through for us without any problems.
Carts were great, service was great! Thank you for always being so amazing! Have a great holiday season and I look forward to working with you next year!
Thank you so much for working with us this year. I spoke very highly of Gilchrist to our President and hopefully we can use you guys again next year when we are at Cal Expo. You were so great to work with, especially with all the last minute changes.
The golf carts worked out perfectly for the event. Thank you for making it so easy!
Everything went great! Your company is wonderful to work with. Happy Holidays. We'll be in touch next year.
Thank you Tom, the cart's were invaluable at our event in order to manage the distances and address issues quickly. I look forward to opportunities to do business again in the future.
Went great and we love the carts with the flatbed style back end, made hauling misc supplies so easy….Thanks!
It was a big success! You guys are so supportive… thank you. We know we can always count on you guys!
Yes everything went great. Thanks for the great and super easy service. We will definitely be using you guys again next year!
Thanks once again for your service. Deliveries were on time, your follow up prior to the events is much appreciated.
All went great. The carts were the best yet, and worked well all weekend. Many of our members, judges and participants complimented the quality of the carts this year.
I have to tell you that that is the most wonderful golf cart I've ever rented. It was powerful, smooth, had a wonderful turning radius, and we absolutely *loved* it. Thank you so much for your efficiency and kindness, and yes, we had a fabulous time.
It is rare that we take time to write a note on good service. That's probably because good service is so rare. However, in the case of the golf cart this note really is warranted. You moved my request to Tom very quickly. Tom set up the lease / rental terms with a minimum of my time. Rick delivered the cart in what I would call a friendly and professional way. It's always a good day when you get to interact with people who are pleasant and have a smile.
Thank you Tom! All did go well and your golf carts were a life saver! I appreciate the wonderful customer service…we look forward to doing business with you again next year.
Thank you, it was a perfect day and your golf carts were just what we needed!!! I will definitely refer your services if I am ever asked. :-)
We have the largest rental fleet in the greater Sacramento area!